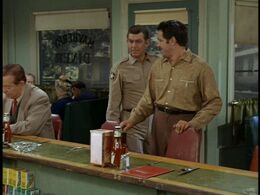 The Diner is the main restaurant in Mayberry. Barney and Andy frequent the diner for it's inexpensive daily specials.
Notable Employee's
Edit
Notable Menu Items/Specials
Edit
3 Vienna Sausages (heavy on the puree), slice of bread with butter, and side of Succotash - (80. cents)
Chicken wings, rice and mixed veggies. (Two wings that's done a lot of flying).
Appearances
Edit
Image Gallery
Edit
Ad blocker interference detected!
Wikia is a free-to-use site that makes money from advertising. We have a modified experience for viewers using ad blockers

Wikia is not accessible if you've made further modifications. Remove the custom ad blocker rule(s) and the page will load as expected.