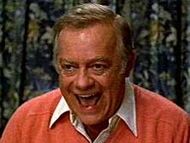 Max Showalter (June 2, 1917 - July 30, 2000), credited as Casey Adams, appeared in one episode of The Andy Griffith Show. His film appearances include Always Leave Them Laughing, With a Song in My Heart, What Price Glory, Stars and Stripes Forever, Niagara, Night People, Bus Stop, Designing Woman, Hellcats of the Navy, The Naked and the Dead, It Happened to Jane, Elmer Gantry, Return to Peyton Place, Claudelle Inglish, Summer and Smoke, Disney's Bon Voyage!, The Music Man, Move Over Darling, Fate Is the Hunter, Sex and the Single Girl, How to Murder Your Wife, The Anderson Tapes, How to Succeed in Business without Really Trying, Sgt. Pepper's Lonely Hearts Club Band, 10 and Sixteen Candles. He also played the recurring character of Gus Clyde on "The Stockard Channing Show". Max passed away in 2000.
Appearances
Edit
Season 1-
External Links
Edit
Ad blocker interference detected!
Wikia is a free-to-use site that makes money from advertising. We have a modified experience for viewers using ad blockers

Wikia is not accessible if you've made further modifications. Remove the custom ad blocker rule(s) and the page will load as expected.