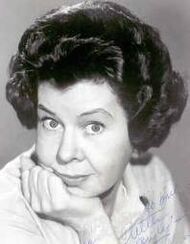 Mary Treen (March 27, 1907 - July 20, 1989) appeared in episodes of The Andy Griffith Show and Gomer Pyle U.S.M.C. She also played the recurring role of Hilda on "The Joey Bishop Show". Her film appearances include G Men, Page Miss Glory, Dangerous, Mr. Dodd Takes the Air, Second Honeymoon, When Tomorrow Comes, Babes in Arms, First Love, Kitty Foyle, Father Takes a Wife, Roxie Hart, Flight for Freedom, Hit Parade of 1943, So Proudly We Hail!, Thank Your Lucky Stars, Swing Parade of 1946, It's a Wonderful Life, The Snake Pit, The Fuller Brush Girl, Room for One More, Dreamboat, The Stooge, The Joker Is Wild, Don't Give Up the Ship, Career, Bachelor in Paradise, The Errand Boy, Girls! Girls! Girls!, Fun in Acapulco, Who's Minding the Store?, Paradise Hawaiian Style, Disney's The Strongest Man in the World and The Brady Bunch.
Ad blocker interference detected!
Wikia is a free-to-use site that makes money from advertising. We have a modified experience for viewers using ad blockers

Wikia is not accessible if you've made further modifications. Remove the custom ad blocker rule(s) and the page will load as expected.