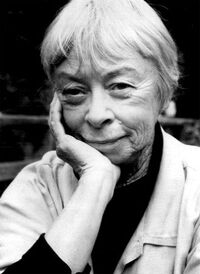 Mary Grace Canfield (September 3, 1924 - February 15, 2014) appeared in one episode of The Andy Griffith Show. She also played Harriet Kravitz on "Bewitched" and Ralph Monroe on "Green Acres". She was in the films The Interns, The St. Valentine's Day Massacre and Disney's Pollyanna and Something Wicked This Way Comes. She passed away from lung cancer at the age of 89.
Appearances
Edit
Season 4-
Ad blocker interference detected!
Wikia is a free-to-use site that makes money from advertising. We have a modified experience for viewers using ad blockers

Wikia is not accessible if you've made further modifications. Remove the custom ad blocker rule(s) and the page will load as expected.