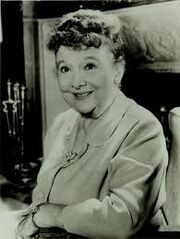 Madge Blake
(May 31, 1899 - February 19, 1969) appeared in one episode of
Gomer Pyle U.S.M.C.
Best remembered for her role as Aunt Harriet on "Batman", she also appeared as recurring characters on the TV series "The Ray Milland Show", "The Jack Benny Program", "The Real McCoys", "Leave It to Beaver" and "The Joey Bishop Show". Her film appearances include
Adam's Rib
,
A Life of Her Own
,
Queen for a Day
,
An American in Paris
,
Singin' in the Rain
,
Skirts Ahoy!
,
The Bad and the Beautiful
,
The Band Wagon
,
The Long Long Trailer
,
Brigadoon
,
Ain't Misbehavin
,
The Private War of Major Benson
,
It's Always Fair Weather
,
The Tender Trap
,
The Solid Gold Cadillac
,
Designing Woman
,
Bells Are Ringing
,
Sergeants 3
,
The Trouble with Angels
,
Batman: The Movie
and Disney's
Follow Me Boys!
For the Disney animated film
Sleeping Beauty
, she performed live-action reference for the three good fairies, Flora, Fauna and Merryweather, alongside
Spring Byington
and
Frances Bavier
.
Ad blocker interference detected!
Wikia is a free-to-use site that makes money from advertising. We have a modified experience for viewers using ad blockers

Wikia is not accessible if you've made further modifications. Remove the custom ad blocker rule(s) and the page will load as expected.