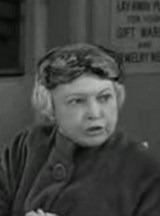 "Little Old Lady" was the shoplifter at Weaver's Department Store. She was hiding things within her coat. Andy had bumped into her and claimed the "clanked". Upon weighing her, they then opened her coat to reveal the weight of all the stolen objects. She was portrayed by Lurene Tuttle.
Season 4-
Ad blocker interference detected!
Wikia is a free-to-use site that makes money from advertising. We have a modified experience for viewers using ad blockers

Wikia is not accessible if you've made further modifications. Remove the custom ad blocker rule(s) and the page will load as expected.