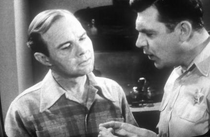 Lester Scobey is a local family man who is being evicted from his home by Ben Weaver. Andy, Barney and Aunt Bee set up a fund raiser to aid the Scobey family - yet being the cantankerous man Ben is, he shoots down everything they try. Finally however, Andy gets Ben to change his mind. While at the Scobey's house, he sits in a chair that breaks. When he finds that it was from his own store- he offers Lester a job.
Appearances
Edit
Ad blocker interference detected!
Wikia is a free-to-use site that makes money from advertising. We have a modified experience for viewers using ad blockers

Wikia is not accessible if you've made further modifications. Remove the custom ad blocker rule(s) and the page will load as expected.