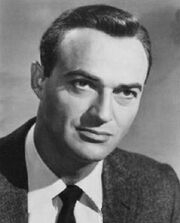 Lawrence Dobkin
(September 16, 1919 - October 28, 2002) directed two episodes of
The Andy Griffith Show
. He also directed episodes of "Mike Hammer", "The Detectives", "The Rifleman", "77 Sunset Strip", "My Living Doll", "Burke's Law", "The Munsters", "Gilligan's Island", "The Donna Reed Show", "Star Trek", "The Wild Wild West", "The Big Valley", "The Name of the Game", "The Doris Day Show", "The Mod Squad", "Adam-12", "Emergency!", "The Streets of San Francisco", "The F.B.I.", "The Rockford Files", "Barnaby Jones", "The Six-Million Dollar Man", "Cannon", "Dallas", "Hawaii Five-O", "Charlie's Angels", "Fantasy Island", "Vega$", "The Waltons", "The Fall Guy", "Dynasty" and "Fame".
As an actor, he appeared in the films Twelve O'Clock High, D.O.A., People Will Talk, The Day the Earth Stood Still, Angels in the Outfield, Ma and Pa Kettle on Vacation, Julius Caesar, The Affairs of Dobie Gillis, Them!, The Silver Chalice, That Certain Feeling, The Ten Commandments, Sweet Smell of Success, The Defiant Ones, North by Northwest, The Gene Krupa Story, Geronimo, The Cabinet of Caligari, Patton, In Search of Historic Jesus and Beastmaster 2: Through the Portal of Time. On TV, he was the narrator of the series "Naked City" and was nominated for an Emmy for his performance on an episode of "CBS Playhouse".
Ad blocker interference detected!
Wikia is a free-to-use site that makes money from advertising. We have a modified experience for viewers using ad blockers

Wikia is not accessible if you've made further modifications. Remove the custom ad blocker rule(s) and the page will load as expected.