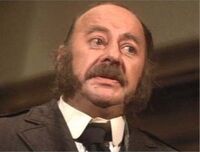 Laurie Main (November 29, 1922 - February 8, 2012) appeared in episodes of The Andy Griffith Show and Mayberry R.F.D. His film appearances include The Phantom of the Opera (1962 version), The Three Stooges Go around the World in a Daze, My Fair Lady, Munster Go Home!, On a Clear Day You Can See Forever, Darling Lili, Time After Time, The Competition, Tarzan the Ape Man, Cheech & Chong's The Corsican Brothers, Mom and Dad Save the World, Robin Hood: Men in Tights and the Disney films The Strongest Man in the World, Freaky Friday, Herbie Goes to Monte Carlo, Winnie the Pooh and a Day for Eeyore and The Great Mouse Detective. He also narrated the Disney TV series "Welcome to Pooh Corner".
Ad blocker interference detected!
Wikia is a free-to-use site that makes money from advertising. We have a modified experience for viewers using ad blockers

Wikia is not accessible if you've made further modifications. Remove the custom ad blocker rule(s) and the page will load as expected.