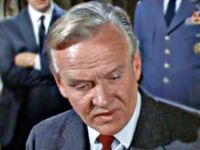 Larry Thor was a Canadian actor who portrayed Mr. Bronson in Barney's Physical. He was born August 27, 1916 and died March 15, 1976 in Santa Monica, Ca of a heart attack. He was in such shows as Perry Mason, Hazel, The Munsters, Gilligans Island, Mod Squad, The Invaders, Family Affair, My Three Sons, and tv movie, Night Games.
Trivia/Notes
Edit
Was born as Arnleifur Lawrence Thorsteinson
He was married to actress Jean Howell
Announcer on CBS Radio's "The Adventures of Rocky Jordan" (1948-1953).
Starred as detective Danny Clover on CBS Radio's "Broadway is My Beat" (1949-1954).
Announcer for CBS Radio's "The Green Lama" (1949
Ad blocker interference detected!
Wikia is a free-to-use site that makes money from advertising. We have a modified experience for viewers using ad blockers

Wikia is not accessible if you've made further modifications. Remove the custom ad blocker rule(s) and the page will load as expected.