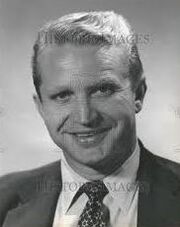 Karl Swenson (July 23, 1908 - October 8, 1978) appeared in episodes of
The Andy Griffith Show
and
Gomer Pyle U.S.M.C.
He played recurring roles on the TV series "Leave It to Beaver" (as George Haskell), "Bachelor Father" (as Charley Burton), "Sam Benedict" (as Barney Rossvalley), "Cimarron Strip" (as Dr. Kihlgren) and "Little House on the Prairie" (as Lars Hanson). His film appearances include
Kings Go Forth
,
The Badlanders
,
The Hanging Tree
,
The Gallant Hours
,
North to Alaska
,
Flaming Star
,
Judgment at Nuremberg
,
Walk on the Wild Side
,
Lonely Are the Brave
,
How the West Was Won
,
The Birds
,
The Prize
, Disney's
The Sword in the Stone
(as the voice of Merlin),
Major Dundee
,
The Sons of Katie Elder
,
The Cincinnati Kid
,
Seconds
,
Hour of the Gun
, Disney's
The Wild Country
and
Vanishing Point
.
Ad blocker interference detected!
Wikia is a free-to-use site that makes money from advertising. We have a modified experience for viewers using ad blockers

Wikia is not accessible if you've made further modifications. Remove the custom ad blocker rule(s) and the page will load as expected.