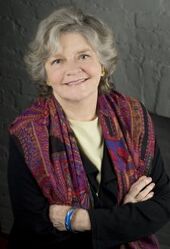 Joyce Van Patten (born March 9, 1934) appeared in one episode of The Andy Griffith Show. She has played recurring characters on the TV series "As the World Turns", "The Good Guys", "The Martian Chronicles", "Brooklyn Bridge", "Unhappily Ever After", "Judging Amy" and "Desperate Housewives". Her film appearances include Fourteen Hours, The Goddess, I Love You Alice B. Toklas!, The Trouble with Girls, Something Big, Mame, The Bad News Bears, St. Elmo's Fire, Blind Date, Monkey Shines, Infinity, Marley & Me, Grown Ups and This Must Be the Place. She is the sister of actor Dick Van Patten.
Ad blocker interference detected!
Wikia is a free-to-use site that makes money from advertising. We have a modified experience for viewers using ad blockers

Wikia is not accessible if you've made further modifications. Remove the custom ad blocker rule(s) and the page will load as expected.