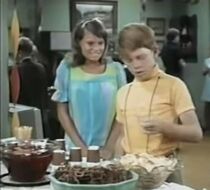 Joy was a miscredited role in one episode: Opie's Group, that should have read "Phoebe", and was played by Kay Ann Kemper (Lenz).
Phoebe was the girl at the birthday party that the boys were playing at. She made a fuss over Opie at the refreshment table between sets and was excited about knowing a real life rock and roll musician - personally.
There was no character named Joy in this episode and the role was probably renamed to Phoebe at the last minute. Chances are they forgot the change the credits at the end of the episode, as they did many other times in other episodes.
Appearances
Edit
Season 8-
Ad blocker interference detected!
Wikia is a free-to-use site that makes money from advertising. We have a modified experience for viewers using ad blockers

Wikia is not accessible if you've made further modifications. Remove the custom ad blocker rule(s) and the page will load as expected.