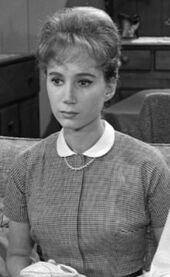 Josie Lloyd (born in 1940) appeared in four episodes of The Andy Griffith Show. She is the daughter of actor and director Norman Lloyd. She has also appeared in episodes of "Alfred Hitchcock Presents", "My Three Sons", "Route 66", "Have Gun - Will Travel", "The Twilight Zone", "Doctor Kildare" and "The Alfred Hitchcock Hour".
Ad blocker interference detected!
Wikia is a free-to-use site that makes money from advertising. We have a modified experience for viewers using ad blockers

Wikia is not accessible if you've made further modifications. Remove the custom ad blocker rule(s) and the page will load as expected.