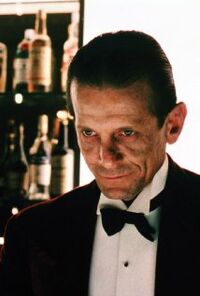 Joe Turkel was born on July 15, 1927 in Brooklyn, New York, USA. He is an actor, known for The Shining (1980), Blade Runner (1982) and Paths of Glory (1957). A frequent collaborator with Stanley Kubrick, who cast him in three feature films - The Killing (1956), Paths of Glory (1957) and The Shining (1980). The only other actor to have worked with Kubrick that often was Philip Stone. Best known for his roles as Lloyd, the ghostly bartender, in The Shining (1980), and Dr. Eldon Tyrell in Blade Runner (1982). Resident of Santa Monica, California, USA.
External Link
Edit
Appearances
Edit
Season 7-
Ad blocker interference detected!
Wikia is a free-to-use site that makes money from advertising. We have a modified experience for viewers using ad blockers

Wikia is not accessible if you've made further modifications. Remove the custom ad blocker rule(s) and the page will load as expected.