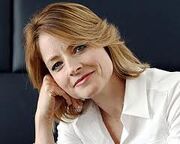 Jodie Foster (born November 19, 1962), the sister of
Buddy Foster
, appeared in two episodes of
Mayberry R.F.D.
She also played recurring roles on the TV series "The Courtship of Eddie's Father", "My Three Sons" and "Paper Moon". Her film career has included four Academy Award nominated performances. She was nominated in the Best Supporting Actress category for
Taxi Driver
and in the Best Actress category for the films
The Accused
(her first win),
The Silence of the Lambs
(her second win) and
Nell
. Her other film appearances include the Disney films,
Napoleon and Samantha
,
One Little Indian
,
Freaky Friday
, and
Candleshoe
, and the films
Tom Sawyer
,
Alice Doesn't Live Here Anymore
,
Bugsy Malone
,
Foxes
,
Stealing Home
,
Little Man Tate
,
Shadows and Fog
,
Sommersby
,
Maverick
,
Contact
,
Anna and the King
,
Panic Room
,
A Very Long Engagement
,
Flightplan
,
Inside Man
,
The Brave One
,
Nim's Island
,
The Beaver
,
Carnage
and
Elysium
. She also directed the films
Little Man Tate
,
Home for the Holidays
and
The Beaver
.
Ad blocker interference detected!
Wikia is a free-to-use site that makes money from advertising. We have a modified experience for viewers using ad blockers

Wikia is not accessible if you've made further modifications. Remove the custom ad blocker rule(s) and the page will load as expected.