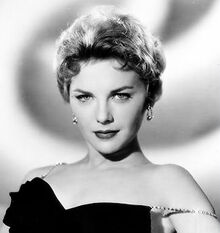 Joanna Cook Moore (November 10, 1934 - November 22, 1997) played Nurse Peggy McMillan on The Andy Griffith Show. Through her marriage to actor Ryan O'Neal, she is the mother of two actors, Tatum O'Neal and Griffin O'Neal. Her film appearances include Touch of Evil, The Last Angry Man, Walk on the Wild Side, Follow that Dream, Nevada Smith, The Hindenburg, and the Disney films Son of Flubber and Never a Dull Moment.
Appearances
Edit
Season 3-
Ad blocker interference detected!
Wikia is a free-to-use site that makes money from advertising. We have a modified experience for viewers using ad blockers

Wikia is not accessible if you've made further modifications. Remove the custom ad blocker rule(s) and the page will load as expected.