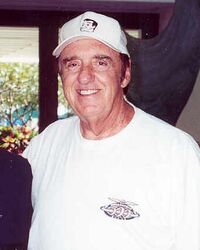 Jim Nabors (born June 12, 1930) played Gomer Pyle on The Andy Griffith Show, Gomer Pyle U.S.M.C. and the TV movie Return to Mayberry. His film appearances include Take Her She's Mine, The Best Little Whorehouse in Texas, Stroker Ace and Cannonball Run II (with Don Knotts and George Lindsey). In 1970, he was nominated for a Golden Globe for "The Jim Nabors Hour" and was nominated for an Emmy in 1978 for "The Jim Nabors Show". He also made notable appearances on "The Carol Burnett Show" and "The Muppet Show". He appeared in the TV reunion specials Andy Griffith Show Reunion, E! True Hollywood Story: Andy of Mayberry, Inside TV Land: The Andy Griffith Show and The Andy Griffith Show Reunion: Back to Mayberry. He was awarded a star on the Hollywood Walk of Fame. In 2013, Jim came out to the media, announcing he and his partner of 38 years married.
Appearances
Edit
See Category:Gomer Pyle U.S.M.C. Episodes
Ad blocker interference detected!
Wikia is a free-to-use site that makes money from advertising. We have a modified experience for viewers using ad blockers

Wikia is not accessible if you've made further modifications. Remove the custom ad blocker rule(s) and the page will load as expected.