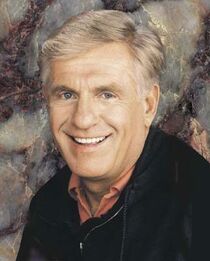 Jerry Van Dyke (born July 27, 1931), the brother of actor Dick Van Dyke, appeared in episodes of The Andy Griffith Show and Gomer Pyle U.S.M.C. He has played recurring characters on the TV series "The Dick Van Dyke Show" (as Stacey Petrie), "My Mother the Car" (as Dave Crabtree), "Accidental Family", "The Headmaster" (starring Andy Griffith), "Mary Tyler Moore", "13 Queens Boulevard", "Coach" (as Luther Van Dam), "You Wish", "Teen Angel" and "Yes Dear". He received four Emmy Award nominations for his performances on "Coach". His film appearances include The Courtship of Eddie's Father, McLintock! and Angel in My Pocket (with Andy Griffith).
Appearances
Edit
Season 5-
Season 4-
External Links
Edit
Ad blocker interference detected!
Wikia is a free-to-use site that makes money from advertising. We have a modified experience for viewers using ad blockers

Wikia is not accessible if you've made further modifications. Remove the custom ad blocker rule(s) and the page will load as expected.