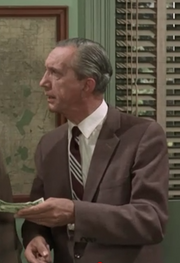 Jason Johnson (January 16, 1907 - November 24, 1977) appeared in five episodes of The Andy Griffith Show. His film appearances include The True Story of Jesse James, Invasion of the Saucer Men, A Hatful of Rain, The Three Faces of Eve, I Want to Live!, Valley of the Dolls and The Andromeda Strain.
Ad blocker interference detected!
Wikia is a free-to-use site that makes money from advertising. We have a modified experience for viewers using ad blockers

Wikia is not accessible if you've made further modifications. Remove the custom ad blocker rule(s) and the page will load as expected.