Jane Dulo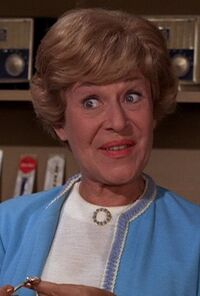 Date of Birth
October 13, 1917
Date of Death
May 22, 1994
Birth name
Bernice Dewlow
Birthplace
Baltimore, Maryland, USA
Cause of Death
After cardiac surgery

Jane Dulo was born October 13, 1917 in Baltimore, MD. She was a comedy character actress, playing housewives, spinsters and tourists in numerous television series ranging from Sgt. Bilko to The Man from U.N.C.L.E. She was 99's mother in the fourth series of Get Smart (1965-1970), but is best remembered for her role in McHale's Navy (1962-1966) as the man-hungry Navy Nurse Molly Turner, who chased Ernest Borgnine throughout it's series' run. For one season, she had a rare dramatic role as a nurse in the series Medical Center (1969-1976). She died from complications during heart surgery on May 22, 1994 in Los Angeles, CA at the age of 76. (Bio thanks to IMDB).
Film and Television
Edit
Acting for decades, Jane took part in various film and television roles. Just some are: Alfred Hitchcock Presents (1959), The Phil Silvers Show (1955-1959), Many loves of Dobie Gillis (1961), The Joey Bishop Show (1962-1963), McHale's Navy and The Dick Van Dyke Show (both 1962-1965), I dream of Jeannie (1965-1968), Gomer Pyle U.S.M.C. (series) (1967-1969), Welcome Back Kotter (1968-1969), Gimme a break (1982-1983), The Wonder Years (1992), The Golden Girls (1992). She appeared in the film Hearts of the West with Andy Griffith.
Appearances
Edit
Season 3-
Season 4-
Season 5-
Ad blocker interference detected!
Wikia is a free-to-use site that makes money from advertising. We have a modified experience for viewers using ad blockers

Wikia is not accessible if you've made further modifications. Remove the custom ad blocker rule(s) and the page will load as expected.