Jan Shutan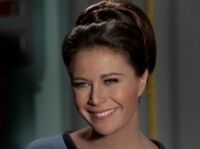 Date of Birth
November 5, 1932
Date of Death
{{{dateofdeath}}}
Birth name
{{{Birth name}}}
Birthplace
Los Angeles, CA
Cause of Death
{{{causeofdeath}}}

Jan Shutan is an American born actress. She played the role of "Gloria" in The Andy Griffith Show.
Selected Filmography
Edit
This House Possessed (TV movie) - 1981

Sons and Daughters (TV series) - 1974

Room 222 (TV series) - 1969-1970

Star Trek - 1969

The Andy Griffith Show (Guest in the House) - 1965
Image Gallery
Edit
Ad blocker interference detected!
Wikia is a free-to-use site that makes money from advertising. We have a modified experience for viewers using ad blockers

Wikia is not accessible if you've made further modifications. Remove the custom ad blocker rule(s) and the page will load as expected.