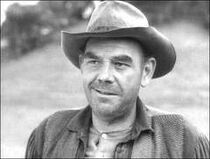 James Westerfield (March 22, 1913 - September 20, 1971) appeared in episodes of The Andy Griffith Show and Mayberry R.F.D. He played the recurring character of John Murrel on the TV series "The Travels of Jaimie McPheeters". His film appearances include The Howards of Virginia, The Magnificent Ambersons, The Pride of the Yankees, Since You Went Away, Undercurrent, Ma and Pa Kettle Go to Town, On the Waterfront, The Violent Men, Man with the Gun, Cowboy, The Proud Rebel, Wild River, Birdman of Alcatraz, Bikini Beach, The Sons of Katie Elder, Hang 'em High, True Grit and The Love God? (with Don Knotts). He also played the character of Officer Hanson in the Walt Disney films The Shaggy Dog, The Absent-Minded Professor and Son of Flubber, and played a sheriff in Disney's Smith! James passed away in 1971 of a heart attack.
Appearances
Edit
Ad blocker interference detected!
Wikia is a free-to-use site that makes money from advertising. We have a modified experience for viewers using ad blockers

Wikia is not accessible if you've made further modifications. Remove the custom ad blocker rule(s) and the page will load as expected.