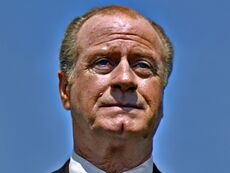 James Seay (September 9, 1914 - October 10, 1992) appeared in episodes of The Andy Griffith Show and Gomer Pyle U.S.M.C., usually playing a policeman. His film appearances include North West Mounted Police, The Son of Monte Cristo, Flight Command, The Green Hornet Strikes Again!, They Died with Their Boots On, Enemy Agents Meet Ellery Queen, Resisting Enemy Interrogation, Miracle on 34th Street, T-Men, An Innocent Affair, The Asphalt Jungle, When World's Collide, The Day the Earth Stood Still, The War of the Worlds, Return to Treasure Island, Vera Cruz, Kiss Me Deadly, The Kentuckian, Friendly Persuasion, Man of a Thousand Faces, Pal Joey, The Amazing Colossal Man, Bombers B-52, The Buccaneer, What Ever Happened to Baby Jane?, The Ballad of Josie and The Green Berets. He also appeared in the Disney TV serial "The Swamp Fox".
Ad blocker interference detected!
Wikia is a free-to-use site that makes money from advertising. We have a modified experience for viewers using ad blockers

Wikia is not accessible if you've made further modifications. Remove the custom ad blocker rule(s) and the page will load as expected.