James Best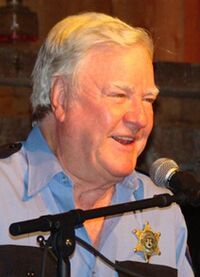 Date of Birth
July 26, 1926
Date of Death
April 6, 2015
Birthplace
Powderly, Kentucky
Cause of Death
Complications from Pneumonia
James Best (July 26, 1926-April 6, 2015) appeared in two episodes of The Andy Griffith Show. He is best remembered for playing Sheriff Rosco P. Coltrane on "The Dukes of Hazzard". His film appearances include Comanche Territory, Ma and Pa Kettle at the Fair, Francis Goes to West Point, The President's Lady, The Beast from 20,000 Fathoms, The Caine Mutiny, A Man Called Peter, Forbidden Planet, The Naked and the Dead, The Killer Shrews, Shenandoah, Sounder, The End, Hooper and Return of the Killer Shrews. James past away at the age of 88, due to complications from pneumonia.
External Links
Edit
Appearances
Edit
Character gallery
Edit
Ad blocker interference detected!
Wikia is a free-to-use site that makes money from advertising. We have a modified experience for viewers using ad blockers

Wikia is not accessible if you've made further modifications. Remove the custom ad blocker rule(s) and the page will load as expected.