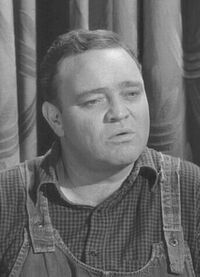 Jack Prince (January 19, 1920 - January 8, 1994) appeared in six episodes of The Andy Griffith Show. He first met Andy Griffith when they performed together in the Broadway musical "Destry Rides Again".
Appearances
Edit
Jack Prince was born "John Upchurch". It is unknown if the character William Upchurch was named after Jack.
External Link
Edit
Jack Prince Sings
Edit
Ad blocker interference detected!
Wikia is a free-to-use site that makes money from advertising. We have a modified experience for viewers using ad blockers

Wikia is not accessible if you've made further modifications. Remove the custom ad blocker rule(s) and the page will load as expected.