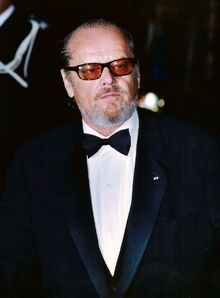 Jack Nicholson (born April 22, 1937) is an iconic Hollywood star, who appeared twice on The Andy Griffith Show. One of his early jobs was as a messenger at MGM's cartoon studio. He broke into film acting in a string of Roger Corman productions. On the TV series "Dr. Kildare", he played the recurring character of Jaime Angel. He has appeared in four films directed by James L. Brooks, Terms of Endearment, Broadcast News, As Good as It Gets, and How Do You Know. His other film appearances include The Cry Baby Killer, The Little Shop of Horrors, The Raven, The Terror, Ensign Pulver, The St. Valentine's Day Massacre, Head, Easy Rider, On a Clear Day You Can See Forever, Five Easy Pieces, Carnal Knowledge, The Last Detail, Chinatown, Tommy, One Flew over the Cuckoo's Nest, The Last Tycoon, The Shining, The Postman Always Rings Twice, Ragtime, Reds, Prizzi's Honor, The Witches of Eastwick, Ironweed, Batman, The Two Jakes (which he also directed), A Few Good Men, Hoffa, Wolf, Blood and Wine, The Evening Star, Mars Attacks!, The Pledge, About Schmidt, Anger Management, Something's Gotta Give, The Departed, The Bucket List and How Do You Know. To date, he has twelve Academy Award nominations for Best Actor and has won three Oscars. He has also been awarded a star on the Hollywood Walk of Fame.
Ad blocker interference detected!
Wikia is a free-to-use site that makes money from advertising. We have a modified experience for viewers using ad blockers

Wikia is not accessible if you've made further modifications. Remove the custom ad blocker rule(s) and the page will load as expected.