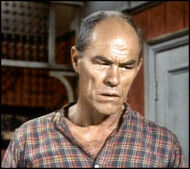 Jack Lambert (born April 13, 1920 in Yonkers, New York). Jack is an American character actor specializing in tough guys and heavies. A native of Yonkers, New York, he worked on the Broadway stage and then became an increasingly familiar figure in Westerns and crime dramas after World War II. He passed away of natural causes on February 18, 2002 in Carmel, CA.
Extended Bio, TV and Filmography
Edit
Appearances
Edit
Ad blocker interference detected!
Wikia is a free-to-use site that makes money from advertising. We have a modified experience for viewers using ad blockers

Wikia is not accessible if you've made further modifications. Remove the custom ad blocker rule(s) and the page will load as expected.