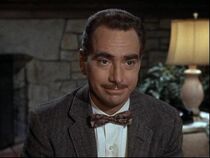 Jack Dodson (May 16, 1931 - September 16, 1994) played Howard Sprague on The Andy Griffith Show, Mayberry R.F.D. and the TV movie Return to Mayberry. He was in the films Munster Go Home!, Angel in My Pocket (with Andy Griffith) and Disney's Something Wicked This Way Comes. He also played Ralph Malph's father on "Happy Days", Judge Farnham on "St. Elsewhere" and Carl Putnam on "Mr. Belvedere". He also made an appearance on "It's Gary Shandling's Show" as Howard Sprague. He appeared in the TV reunion special Andy Griffith Show Reunion.
Appearances
Edit
Ad blocker interference detected!
Wikia is a free-to-use site that makes money from advertising. We have a modified experience for viewers using ad blockers

Wikia is not accessible if you've made further modifications. Remove the custom ad blocker rule(s) and the page will load as expected.