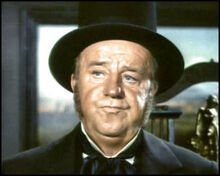 J. Pat O'Malley (March 15, 1904 - February 27, 1985) appeared in one episode of The Andy Griffith Show. He played recurring characters on the TV series "The Mickey Mouse Club" (as Perkins in the "Spin and Marty" serials), "Wendy and Me" (as Mr. Bundy), "Black Saddle" (as Judge Caleb Marsh), "Disneyland" (as Sergeant O'Reilly in "The Swamp Fox" serial), "The Dick Van Dyke Show" (as Sam Petrie), "My Favorite Martian" (as Harry Burns), "Batman" (as Pat Pending), "A Touch of Grace" (as Herbert Morrison) and "Maude" (as Bert Beasley). His film appearances include Captain Caution, Lassie Come Home, The White Cliffs of Dover, The Fastest Gun Alive, Courage of Black Beauty, Witness for the Prosecution, The Long Hot Summer, The Cabinet of Caligari, Disney's Son of Flubber, A House Is Not a Home, Gunn, Star!, Hello Dolly!, The Cheyenne Social Club, Willard and Skin Game.
His work as a cartoon voice actor includes the Disney films The Adventures of Ichabod and Mr. Toad, Alice in Wonderland, One Hundred and One Dalmatians, The Saga of Windwagon Smith, Mary Poppins, The Jungle Book and Robin Hood. He can also be heard in Hanna-Barbera's Hey There It's Yogi Bear!
Appearances
Edit
Season 4-
Ad blocker interference detected!
Wikia is a free-to-use site that makes money from advertising. We have a modified experience for viewers using ad blockers

Wikia is not accessible if you've made further modifications. Remove the custom ad blocker rule(s) and the page will load as expected.