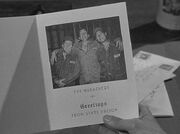 The
Hubacher brothers
were in the State prison. Even though
Andy
and
Barney
sent them to prison, the three brothers seem to have a friendly relationship with them, sending Andy and Barney cards and presents.
Junior
Elmer - the youngest
The Andy Griffith Show
Edit
The Inspector - Andy and Barney receive a letter from upstate. They are in leather crafts. Brother Elmer had been paroled but returned.
The Christmas Story - they send a Christmas card to Andy and Barney with a photo of them.
Deputy Otis - They have been in jail for two years.
Ad blocker interference detected!
Wikia is a free-to-use site that makes money from advertising. We have a modified experience for viewers using ad blockers

Wikia is not accessible if you've made further modifications. Remove the custom ad blocker rule(s) and the page will load as expected.