Howard McNear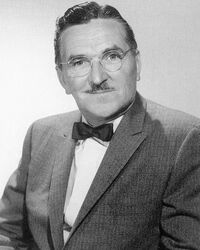 Date of Birth
January 27, 1905
Date of Death
January 3, 1969
Birth name
Howard Terbell McNear
Birthplace
Los Angeles, CA
Cause of Death
Complications from pneumonia caused by a stroke
Howard McNear played Floyd Lawson on The Andy Griffith Show.
Biography
Edit
He played Doc Adams on CBS radio's "Gunsmoke". His film appearances include Escape from Fort Bravo, The Long Long Trailer, Drums across the River, Bundle of Joy, Bell Book and Candle, Good Day for a Hanging, Anatomy of a Murder, The Last Time I Saw Archie (with Don Knotts), Voyage to the Bottom of the Sea, Blue Hawaii, The Errand Boy, Follow that Dream, Irma La Douce, The Wheeler Dealers, Fun in Acapulco, Kiss Me Stupid and The Fortune Cookie.
Appearances
Edit
Ad blocker interference detected!
Wikia is a free-to-use site that makes money from advertising. We have a modified experience for viewers using ad blockers

Wikia is not accessible if you've made further modifications. Remove the custom ad blocker rule(s) and the page will load as expected.