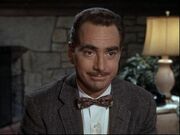 Original Airdate
December 18, 1967
Plot
Bored with his dull, mundane, life and job, Howard decides to leave it all behind and moves to a small Carribean island. At first pleased with his new life of leisure, he soon realises it's not for him and moves back to Mayberry.
Notes
Cast
Crew
Ad blocker interference detected!
Wikia is a free-to-use site that makes money from advertising. We have a modified experience for viewers using ad blockers

Wikia is not accessible if you've made further modifications. Remove the custom ad blocker rule(s) and the page will load as expected.