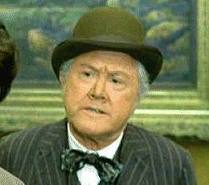 Henry Slate (June 15, 1910 - August 11, 1996) appeared in one episode of The Andy Griffith Show. He appeared in the films Winged Victory, You're in the Navy Now, The Frogmen, The Belle of New York, O. Henry's Full House, The Jazz Singer, Pickup on South Street, Miss Sadie Thompson, Hit the Deck, My Sister Eileen, Rock around the Clock, Bus Stop, Bedtime Story, The Patsy, A Big Hand for the Little Lady, The Shootist, Norma Rae, Little Miss Marker, Murphy's Romance, and the Disney films The Strongest Man in the World, No Deposit No Return, Gus, The Shaggy D.A., Pete's Dragon, The Cat from Outer Space and Herbie Goes Bananas.
Appearances
Edit
Ad blocker interference detected!
Wikia is a free-to-use site that makes money from advertising. We have a modified experience for viewers using ad blockers

Wikia is not accessible if you've made further modifications. Remove the custom ad blocker rule(s) and the page will load as expected.