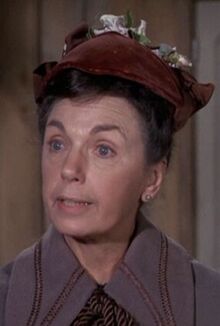 Helen Kleeb (January 6, 1907, South Bend, Washington — December 28, 2003, Los Angeles, California) was an American film and television actress. In a career covering nearly fifty years, she may be best-known for her role as "Miss Mamie Baldwin" on CBS's The Waltons (1972–81). Kleeb is best remembered for her television roles as 'Miss Claridge' on "Harrigan And Son" in 1960, 'Mrs. Slocum' on "Pete and Gladys" from 1960 to 1962, and 'Mamie "Miss Mamie" Baldwin' on "The Waltons" from 1972 to 1981. Among her other roles are the films, "Kansas City Confidential" (1952), "The Desperate Hours" (1955), "The Manchurian Candidate" (1962), "Hush...Hush Sweet Charlotte" (1964), "The Fortune Cookie" (1966), "The Party" (1968), and "The Adventures of Huckleberry Finn" (1981), and several television appearances including, "Little House On The Prairie," "Dragnet," "Gunsmoke," Adam 12," "Bonanza," "The Munsters," "Highway To Heaven," "Who's The Boss?," and "Mister Ed."
She portrayed Mrs. Morgan on The Andy Griffith Show.
Appearances
Edit
Ad blocker interference detected!
Wikia is a free-to-use site that makes money from advertising. We have a modified experience for viewers using ad blockers

Wikia is not accessible if you've made further modifications. Remove the custom ad blocker rule(s) and the page will load as expected.