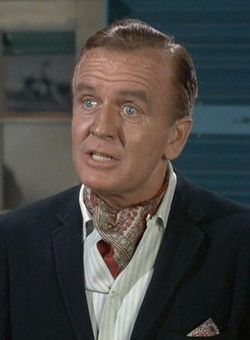 Hayden Rorke (October 23, 1910 - August 19, 1987) appeared in one episode of The Andy Griffith Show. Best remembered as Dr. Bellows on "I Dream of Jeannie", he also played recurring characters on the TV series "No Time for Sergeants" and "Dr. Kildare". His film appearances include This Is the Army, Lust for Gold, Rope of Sand, Kim, The Magnificent Yankee, Father's Little Dividend, Francis Goes to the Races, An American in Paris, When Worlds Collide, Room for One More, Above and Beyond, The Story of Three Loves, South Sea Woman, The Robe, Lucky Me, Drum Beat, All That Heaven Allows, This Happy Feeling, Pillow Talk, Midnight Lace, Tammy Tell Me True, Back Street, Pocketful of Miracles, Spencer's Mountain, The Thrill of It All, The Unsinkable Molly Brown, A House Is Not a Home, The Night Walker and Disney's The Barefoot Executive.
Season 6-
Ad blocker interference detected!
Wikia is a free-to-use site that makes money from advertising. We have a modified experience for viewers using ad blockers

Wikia is not accessible if you've made further modifications. Remove the custom ad blocker rule(s) and the page will load as expected.