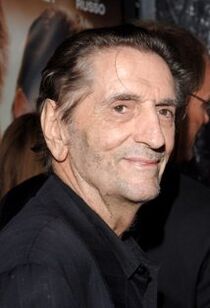 Harry Dean Stanton (born July 14, 1926) appeared in one episode of The Andy Griffith Show. His film appearances include The Proud Rebel, Pork Chop Hill, The Adventures of Huckleberry Finn, How the West Was Won, The Man from the Diner's Club, A Fistful of Dollars, with Clint Eastwood Cool Hand Luke, Kelly's Heroes, Pat Garrett & Billy the Kid, Dillinger, The Godfather: Part II, Farewell My Lovely, The Missouri Breaks, Cheech and Chong: Up in Smoke, Alien, The Rose, Private Benjamin, Escape from New York, One from the Heart, Young Doctors in Love, Repo Man, Paris Texas, The Bear, Red Dawn, Disney's One Magic Christmas, Fool for Love, Pretty in Pink, Mr. North, The Last Temptation of Christ, Dream a Little Dream, Wild at Heart, Twin Peaks: Fire Walk with Me, Down Periscope, Fear and Loathing in Las Vegas, A Civil Action, Disney's The Straight Story, The Green Mile, The Pledge, Anger Management, The Big Bounce, Alpha Dog, Alien Autopsy, You Me and Dupree, Inland Empire, The Good Life, The Open Road, Rango, This Must Be the Place,The Avengers, Seven Psychopaths and The Last Stand. He also played Roman Grant on the TV series "Big Love".
Ad blocker interference detected!
Wikia is a free-to-use site that makes money from advertising. We have a modified experience for viewers using ad blockers

Wikia is not accessible if you've made further modifications. Remove the custom ad blocker rule(s) and the page will load as expected.