Gus Bivona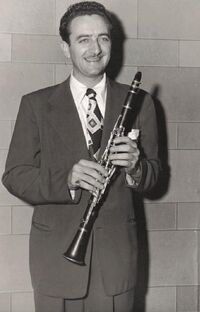 Date of Birth
November 25, 1915
Date of Death
January 5, 1996
Birth name
Gus Peter Bivona
Birthplace
New London, Connecticut, United States
Cause of Death
{{{causeofdeath}}}

Gus Bivona (November 25, 1915 - January 5, 1996) appeared as the clarinetist with Bobby Fleet and his Band with a Beat in one episode of The Andy Griffith Show.
Throughout his career, he performed with many notable bandleaders, including Benny Goodman, Les Brown, Tommy Dorsey and Bob Crosby. He was also a regular performer with the MGM Studio Orchestra and on "The Steve Allen Show".
Appearances
Edit
Ad blocker interference detected!
Wikia is a free-to-use site that makes money from advertising. We have a modified experience for viewers using ad blockers

Wikia is not accessible if you've made further modifications. Remove the custom ad blocker rule(s) and the page will load as expected.