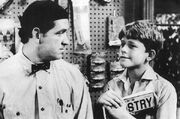 Original Airdate
December 25, 1967
Plot
Notes It's said multiple times in this episode that Goober has been working at the filling station for 113/4 years however Goober wasn't even mentioned on the show untill season 3 and didn't appear on the show untill almost the end of season 4. His cousin Gomer, who he took the place of at the filling station, didn't leave for the marines untill the end of season 4. This certainly chops this episode's mention of 113/4 years down to less than 3 years.
Cast
Crew
Ad blocker interference detected!
Wikia is a free-to-use site that makes money from advertising. We have a modified experience for viewers using ad blockers

Wikia is not accessible if you've made further modifications. Remove the custom ad blocker rule(s) and the page will load as expected.