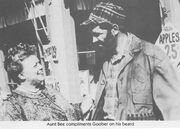 Original Airdate
December 19, 1966
Plot
Goober annoys everyone when he becomes convinced his new beard makes him an intellectual.

Notes
Goober says that Hawaii was the 49th state and Alaska the 50th. It's actually the other way around.
Sandy Kenyon not Richard Bull played Bill Lindsay, the end credits are wrong.
Cast
Crew
Ad blocker interference detected!
Wikia is a free-to-use site that makes money from advertising. We have a modified experience for viewers using ad blockers

Wikia is not accessible if you've made further modifications. Remove the custom ad blocker rule(s) and the page will load as expected.