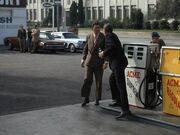 Original Airdate
February 5, 1968
While in Raleigh for the auto show Goober meets up with Roy, an old trade-school classmate, and does some bragging about his business. Roy soon finds out the truth and makes Goober feel like a failure. Turns out, though, Roy was doing some bragging of his own. He was only a mechanic at a gas station, instead of owning one like Goober. Now when Goober had his chance to rub Roy's nose in it, he chose not to.
After the auto show Andy stops for gas and a bottle of pop. He takes one drink, sits it down on top of something and then calls Goober over to show him the guy that's working underneath the car inside the garage. They both walk away back toward the car and Andy has forgotten his whole bottle of pop.
Actor Howard Hesseman would eventually go on and be known for Dr. Johnny Fever, on WKRP in Cincinnati. This was his first appearance on T.V. He would also play a small role in the episode Sam for Town Council.
Ad blocker interference detected!
Wikia is a free-to-use site that makes money from advertising. We have a modified experience for viewers using ad blockers

Wikia is not accessible if you've made further modifications. Remove the custom ad blocker rule(s) and the page will load as expected.