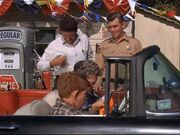 Original Airdate
April 10, 1967
Plot Wanting to perk up business and draw more clients to the filling station, Goober has Wally agree to have a sweepstakes. Chaos ensues when Goober makes a clerical error with the stationary company who made the prize envelopes and Floyd wins an erroneous prize for $200 (when in actuality the entire budget for the prizes was $200).

Trivia and Notes
This marks Howard McNear's last appearance as Floyd.
Aunt Bee wins a $5 prize.
Andy references a tornado that hit Mayberry 12 years prior so the year of that storm can be assumed as 1955 (since this episode aired in 1967).
Cast
Crew
Ad blocker interference detected!
Wikia is a free-to-use site that makes money from advertising. We have a modified experience for viewers using ad blockers

Wikia is not accessible if you've made further modifications. Remove the custom ad blocker rule(s) and the page will load as expected.