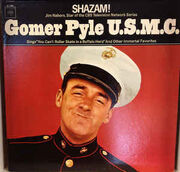 In 1965, Columbia Records released a vinyl LP fully titled, "Shazam! Jim Nabors, star of the CBS Televison Network series Gomer Pyle U.S.M.C. Sings "You Can't Roller Skate in a Buffalo Herd" and Other Immortal Favorites" While it did not include any actual themes from
Gomer Pyle U.S.M.C.
, it featured
Jim Nabors
singing several popular tunes and at least two songs written especially for the album.
Track ListingEdit
1. Hoo How, What Now?
2. It Takes All Kinds to Make a World
3. Hot Dog Heart
4. Shazam!
5. Heart Insurance
6. Reincarnation
7. If You Want Me To
8. The Waltz of Miss Sarah Green
9. All of This for Sally
10. You Can't Roller Skate in a Buffalo Herd
11. Old Blue
12. Gomer Says Hey!
Ad blocker interference detected!
Wikia is a free-to-use site that makes money from advertising. We have a modified experience for viewers using ad blockers

Wikia is not accessible if you've made further modifications. Remove the custom ad blocker rule(s) and the page will load as expected.