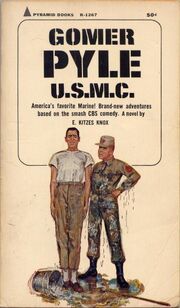 Gomer Pyle U.S.M.C.
is a novel by E. Kitzes Knox published in 1965 by Pyramid Books to promote the TV series
Gomer Pyle U.S.M.C.
E. Kitzes Knox is a pseudonym for the two authors, Esther Kitzes and Helen Knox. The novel makes several changes to the show's backstory. Gomer was raised in a small town called Sinking Springs, instead of
Mayberry
. Sergeant
Vince Carter
's full name is given as Harold Q. Carter. All of the other characters are original to the novel. When the main characters visit Sinking Springs, they meet a family with similarities to the
The Darlings
called the Singing Drums.
Ad blocker interference detected!
Wikia is a free-to-use site that makes money from advertising. We have a modified experience for viewers using ad blockers

Wikia is not accessible if you've made further modifications. Remove the custom ad blocker rule(s) and the page will load as expected.