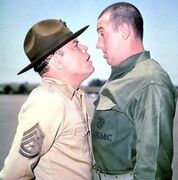 Gomer Pyle U.S.M.C. is a situation comedy that aired for five seasons on CBS from 1964 to 1969. The pilot episode of the series aired as a fourth season episode of The Andy Griffith Show. The series, created by Aaron Ruben, starred Jim Nabors as PFC. Gomer Pyle as he serves in The United States Marine Corps at Camp Henderson in California, under the command of Sergeant Vince Carter (Frank Sutton).
See also
Edit
Ad blocker interference detected!
Wikia is a free-to-use site that makes money from advertising. We have a modified experience for viewers using ad blockers

Wikia is not accessible if you've made further modifications. Remove the custom ad blocker rule(s) and the page will load as expected.