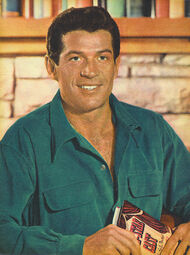 George Nader (1921–2002). Born in Pasadena, California, George Nader became interested in acting while still in school and appeared in several productions at the Pasadena Playhouse. This led to several small parts in movies before earning the lead role in the infamous 3D thriller "Robot Monster (1953)". The movie was bad but profitable, and Nader soon had a contract with Universal Pictures. Unfortunately, the studio already had on its roster such good-looking and athletic actors as Rock Hudson, Tony Curtis and Jeff Chandler, so Nader often found himself being cast in their leftovers, usually playing parts that emphasized his "beefcake" appeal. Read more here as well as George's TV and Filmography: IMDB PAGE.
Appearances
Edit
Season 1-
Ad blocker interference detected!
Wikia is a free-to-use site that makes money from advertising. We have a modified experience for viewers using ad blockers

Wikia is not accessible if you've made further modifications. Remove the custom ad blocker rule(s) and the page will load as expected.