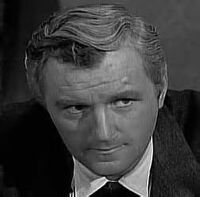 George N. Neise was born on February 16, 1917 in Chicago, Illinois, Died April 14, 1996 (age 79) in Los Angeles, California, USA. He was an actor, known for Experiment Perilous (1944), The Three Stooges Meet Hercules (1962) and Pharaoh's Curse (1957). He was married to Danielle Gentile and Lorna Thayer. He was an American character actor, on screen from 1942, who appeared as soldiers in war-era pictures, then went on to support work playing everything from kings to short-tempered bosses. Father of daughters, Adrienne and Nikki, & Eleven grandchildren.
Appearances
Edit
Season 2-
External Links
Edit
Ad blocker interference detected!
Wikia is a free-to-use site that makes money from advertising. We have a modified experience for viewers using ad blockers

Wikia is not accessible if you've made further modifications. Remove the custom ad blocker rule(s) and the page will load as expected.