George Lindsey
Comments

3
1,440pages on
this wiki
George Lindsey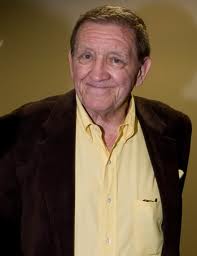 Date of Birth
December 17, 1928
Date of Death
May 6, 2012
Birth name
Andy Samuel Griffith
Birthplace
Fairfield, Alabama, USA
George Lindsey
(December 17, 1928 - May 6, 2012) played
Goober Pyle
on episodes of
The Andy Griffith Show
,
Gomer Pyle U.S.M.C.
,
Mayberry R.F.D.
and in the TV movie
Return to Mayberry
. His film appearances include
Ensign Pulver
,
Take This Job and Shove It
,
Cannonball Run II
(with
Don Knotts
and
Jim Nabors
) and the Disney films
The Aristocats
,
Snowball Express
,
Charley and the Angel
,
Robin Hood
,
Treasure of Matacumbe
and
The Rescuers
.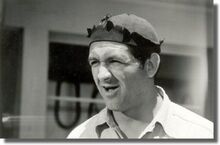 He played Goober on the pilot episode of "The New Andy Griffith Show" and made frequent appearances on the TV series "Hee-Haw" dressed as Goober. Leonard Nimoy has stated on a TV Land interview that George Lindsey was originally offered the role of Spock on "Star Trek" and that he turned it down. He appeared in the TV reunion specials Andy Griffith Show Reunion and E! True Hollywood Story: Andy of Mayberry.
Notes/Trivia
Edit
Spouse was Joy Herbert from 1956 to 1991 (divorced) - 2 children
Although Lindsey has pretty much made a career out of playing variations of his most famous character, Goober -- a genial, good-hearted but somewhat slow-witted hick--Lindsey has a Bachelors Degree in Bio-science from the University of North Alabama and was a science teacher before deciding to become an actor.
Disney used his talents in a handful of projects, both as comedy support in features and giving vocal life to a few of their animated characters.
Former high school teacher and briefly a stand-up comic.
Appeared in a couple of musicals ("All-American" and "Wonderful Town") before heading to Los Angeles in the early 60s.
TV Land's "Star Trek" (1966) marathon on November 17th, 2006, had comments by the actors. Leonard Nimoy's stunner was that Gene Roddenberry's first choice to play "Spock" was George Lindsey. He turned the part down and the rest is history.
Attended Kemper Military School & College in Boonville, Missouri.
Has a son George Lindsey Jr., a daughter Camden Jo Lindsey Gardner, and two grandsons.
According to Jim Nabors, Lindsey was first considered for the role of Gomer Pyle.
Devoted a good deal of his time to raising money for Alabama Special Olympics.
Moved to Hollywood in the early 1960's.
Attended American Theater Wing in N.Y. in 1956.
Appearances
Edit