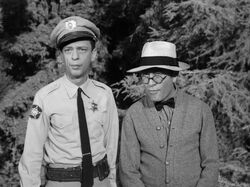 George was a television repair man in Mayberry, probably out of Orville Monroe's Funeral and TV Repair Shop, but this is unconfirmed. He's called upon to repair Helen Crump's television for her with the keys left for him at the door. When the TV has a bigger job than George expected, Barney drags him all the way out of town to Myers Lake, interrupting Andy and Helen's date, to let her know of the problem.
George also resembled local Ernest T. Bass; suggesting the two might be related. (Both characters were portrayed by Howard Morris.)
Season 5
George may look familiar, as "Howard Morris" is better known as Ernest T. Bass in The Andy Griffith Show.