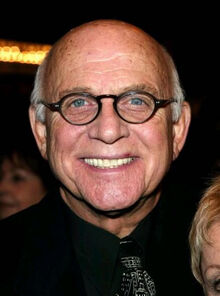 Gavin MacLeod (born February 28, 1931) appeared in episodes of The Andy Griffith Show and Gomer Pyle U.S.M.C. He played recurring roles on the TV series "McHale's Navy" (as Seaman Joseph 'Happy' Haines), "The Mary Tyler Moore Show" (as Murray Slaughter) and "The Love Boat" (as Captain Merrill Stubing). He received two Golden Globe nominations for his performance on "Mary Tyler Moore" and three for "The Love Boat". His film appearances include I Want to Live!, Pork Chop Hill, the comedy classic Operation Petticoat starring Cary Grant & Tony Curtis, The Gene Krupa Story, High Time starring Bing Crosby, The McHale's Navy Movie, McHale's Navy Joins the Air Force, The Sand Pebbles Starring Steve McQueen, The Party, The Comic, Kelly's Heroes and The Secrets of Jonathan Sperry.
It should be noted, that his first role on the show was Gilbert Jamel, a fake T.V. Producer, who was pretending to do a show about Sheriff without a gun. He then played the Andy Taylor in a actual movie about Sheriff without a gun.
IMDB Link...Here
Ad blocker interference detected!
Wikia is a free-to-use site that makes money from advertising. We have a modified experience for viewers using ad blockers

Wikia is not accessible if you've made further modifications. Remove the custom ad blocker rule(s) and the page will load as expected.